Please welcome Jennifer James to the blog today! She's got a hot new release to tell you all about!
What the Eff is a Phooka?
I got that question a lot when I did the cover art reveal for PEYTON'S RIDE. I love shape shifters, but being that I tend to take a simple idea and twist it up into a strange perversion….I like shifters who are the run of the mill werewolf or were-(insert big cat breed) here.
I also really love all things Celtic. Knotwork, weaponry, language…kilts.
Men in kilts
. *GRIN* So of course I enjoy researching the Fae.
(Thanks to http://irelandofthewelcomes.com/home/tales-of-the-pooka/ for the awesome picture)
Anyway, back to the question. Phookas. What they are. Wellll……like all ancient mythological creatures, the phooka has lots of different back stories and legends surrounding it. For a scholar or someone trying to write a non-fiction research paper, that's a whole lotta woo-hoo stew to try and make sense of.
But for me? That's an open invitation to wreak havoc and jump around in my own private bounce house with a notebook and endless licorice supply.
Phooka can be spelled like five different ways, and depending on the county in Ireland, you might get a different legend of the wily buggar. He can take on different forms—horse, rabbit, goat, goblin, cute and fluffy kitty cat, hot young man or woman—but he always has black fur, can speak in a human voice, and if he's got his panties in a bunch, he might just eat you.
http://theberry.com/2012/01/19/daily-awww-fluffy-kitty-cats-31-photos/cute-cat-11-2/
I is not a phooka. Look at me. I am FLUFFEH KITTEH!
To this day some farmers still leave gleanings in their fields as offerings to the phooka in hopes of keeping him away…and hopefully all his mischief. A smart, easily offended, and prone to trickery being, dealing with a phooka isn't for the faint of heart.
There are even legends that say the phooka can knock on your door at night…and offer you a ride. A wild ride that you cannot refuse to take, at the risk of being subjected to bad luck and foul deeds for the rest of your life.
Well… Ian Coghlan can become a big black horse with red eyes. Can he take on different forms? Maaaybe. I'll have to ask him. *wink*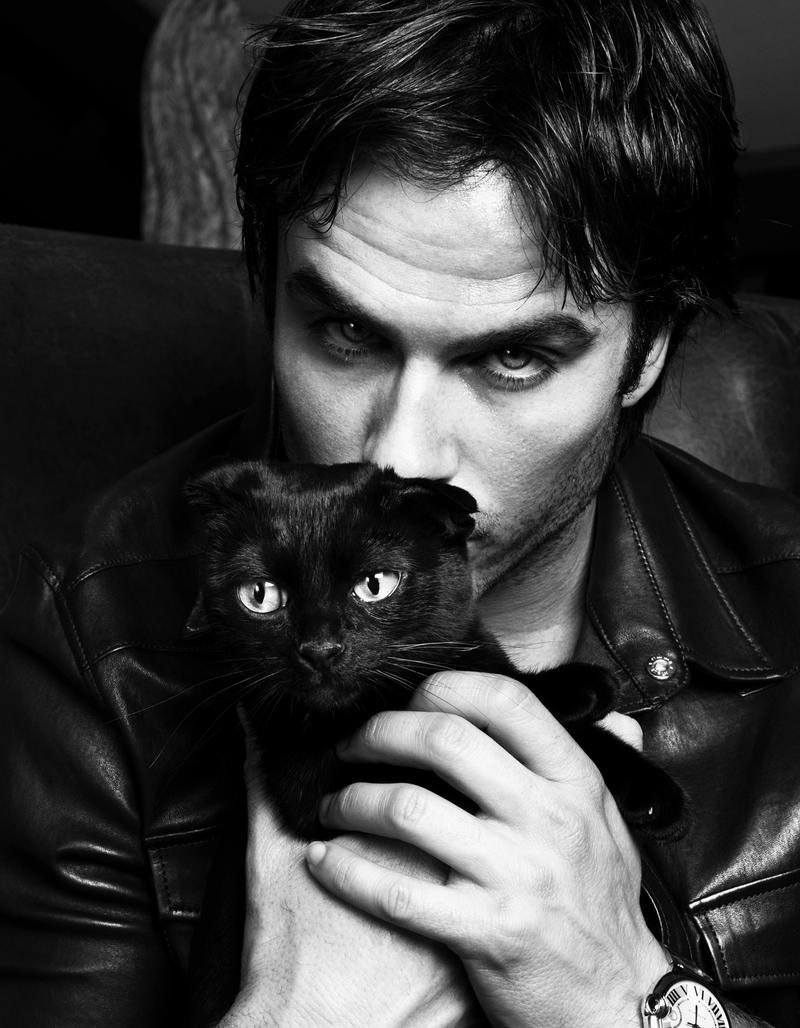 Ian Somerhalder. With a kitteh. It's black. Ian = phooka? *raises eyebrows* ;)
But hey, if he showed up at your door…do you think you'd turn down a ride?
She's about to trade her treasured motorcycle in on a much wilder ride--Ian Coghlan.
Divorcee Peyton Reynolds is ready to escape the the judgement of a small town, bad memories of her failed marriage, and the grief of her mother's death. A month long, cross-country ride should do just the trick. One last check-up on her new cruiser has her tripping over her hormones while alone in the garage with the town's sexy bad boy, Ian Coghlan.
Tattooed, pierced, and able to shape-shift, Ian will give her the ride of her life.
Ian Coghlan knows he's nothing but disaster for a woman like Peyton. His place in the Wild Hunt and killer instincts have held him back from acting on a five-year attraction. When the curvy brunette responds to one tiny grin with a spark of interest, sockets fly out of the toolboxes and Peyton is knocked to the floor.
That month of solitude she wanted just disappeared, but the consolation prize is looking pretty...damn...hot.
With the magic of the Hunt in the air, Pixie pranks abound, and his old biker gang roars into the parking lot, dousing the heat in the garage with the cold dredges of mayhem. Peyton's life is on the line with his bad brothers' return to his world, and Ian has to decide if he can let her go or if he's willing risk her eternal hatred by changing her life forever.
Ian crouched near the rear tire, bent over, and examined the tread. The move put his ass in the air, and man oh man did he fill out those jeans. She gulped, glad he hadn't caught her ogling him, and moved her attention to a safer location. A large frown line bisected his forehead as he used his thumbs to pick at the rubber. The bright colors in his tattoos rippled and moved as his muscles flexed under the skin.
Damn, who knew a forearm could be so . . . enticing? Muscles, skin, and tendons rippled around and her mouth watered. Was she turning into a cannibal? Maybe this was the beginning of menopause, and she was developing a case of pica. Pretty soon she'd have an undeniable urge to stuff rocks and bits of glue picked off craft projects in her mouth.
A furious desire to trace the ink lines with her fingertips and tongue took root and refused to be banished. The designs had snippets of words interspersed with tribal art, Celtic knot work, leaves, vines, and even animals. The tats sat on him well. Maybe it was his aura, the masculinity he exuded, all self-confidence and quiet watchfulness.
She needed to stop staring before he caught her drooling. Even if she wanted to peel his shirt up and inspect his torso for more ink. Man, the first time she'd seen him five years ago when she'd first come in the dealership looking at the bikes, she'd almost knocked over an entire row of brand new, gleaming, thirty thousand dollar machines. Walked in, saw him, and bashed right into a black cruiser. The levels of her bad-assery knew no bounds.
About the Author--Jennifer James
For a girl whose first book was called "The Scariest Forest Ever," the jump to romance may seem to be a far one. But a love of happy endings and the stories she kept making up in her head for strangers on the street lead to an unhealthy amount of time spent behind the keyboard typing away and giggling mischievously over sassy heroines,
sexy heroes, and healthy sprinklings of geek humor.
With time split between a day job staring at teeth, two little girls, college courses, workaholic husband, and too many voices in her head, Jennifer still finds time to sneak off and devour all the books she can find – even if it means hiding in the closet to read them.
She insists on her jokes being dirty, drinks spiked, and tattoos placed in intriguing, muscular places you can only find when the clothes come off.
Author Links--Jennifer James